Vintage Burma Teak Wood Trunk Box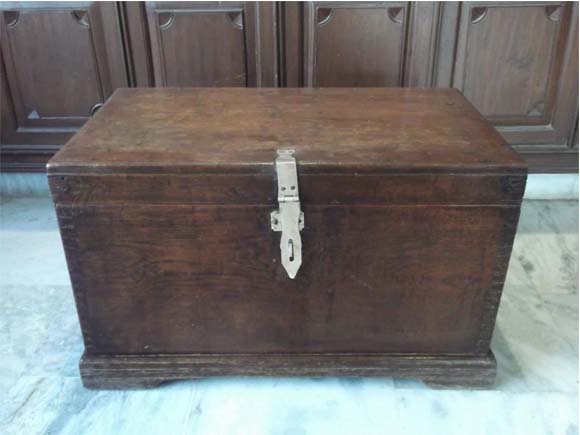 The sturdy handsome teak wooden box you see here is made in Burma and shipped to India by the workers at Burma of Indian origin. This enchanting box is made of pure Burma teak wood, famous for its durability,strength and water resistance.The box is known as 'trunk box' since it is made out of the timber planks cut out of the trunk of the Burma teak wood tree. The best quality of wood comes from the trunk and wide planks of wood are required to make a large box which can be obtained from the wide trunk only. The main characteristics of a wooden trunk box are:
There should not be any joints in the wooden planks

It should be a single piece in all six sides of the box
You will observe that this box is made out of solid wood without any joints in the wooden boards.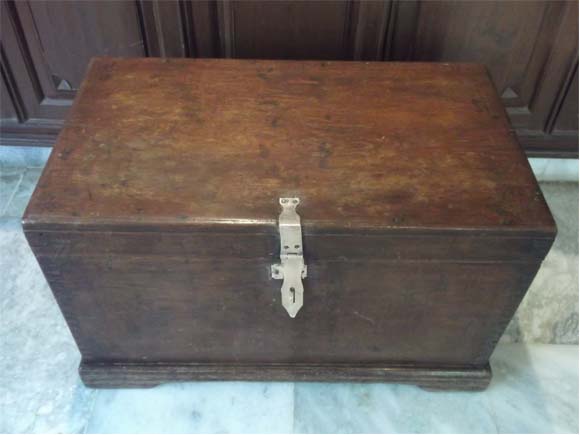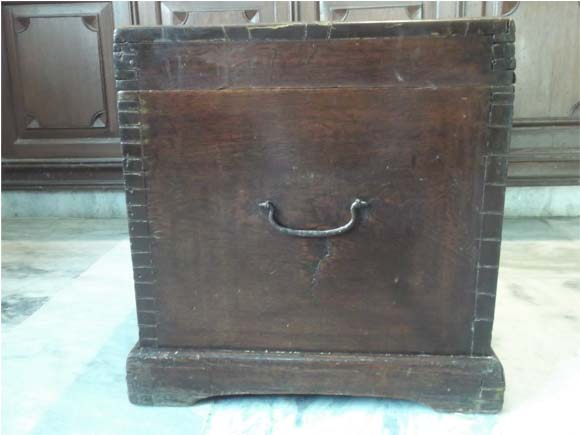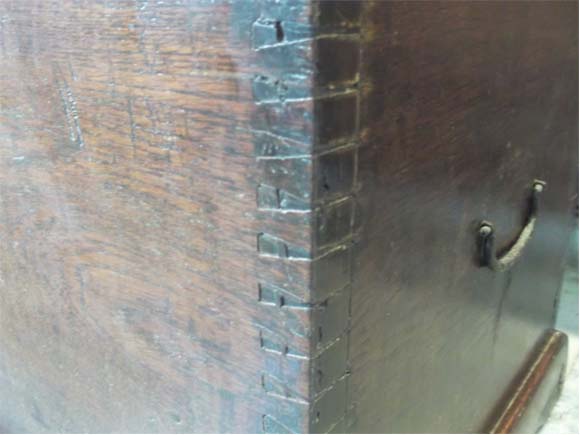 The Design of the Box
The box is designed to keep valuable items like gold and silver items, silk garments and any items that need safety and protection. There is a special compartment with a lid inside the box to hold important documents.
The box is sitting on a 3 inch high solid base frame. This base frame takes the load of the box and reinforces its structure.The lid has a 3 inch high inverted tray structure joined to the main box with rotary brass hinges. There is a beautiful brass latch fixed to the top lid that fits snugly into a ring fixed to the main box which can be locked with a padlock. There is an in-built locking system also but I have misplaced the key.
The wooden boards on four sides are skilfully joined with neat symmetrical inter locking design to form the box. This shows the skill of the carpenter who made this box. There are no adhesive used to strengthen the joints. The strength of the joints is achieved by perfect cutting of the joint grooves and tight fitting of the inter locking of the wooden grooves. It should be noted with admiration that no adhesive is used in the joints for tight fitting.It is purework of precision cutting and fitting.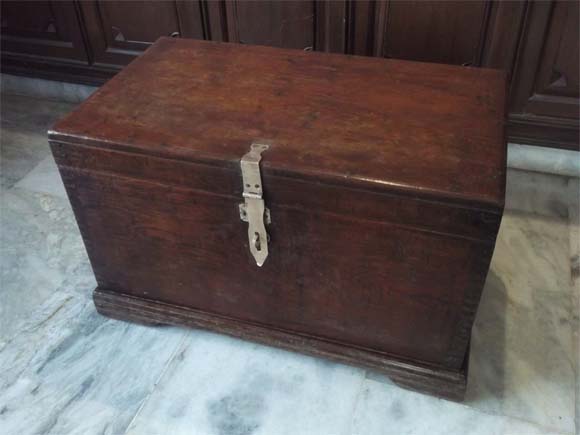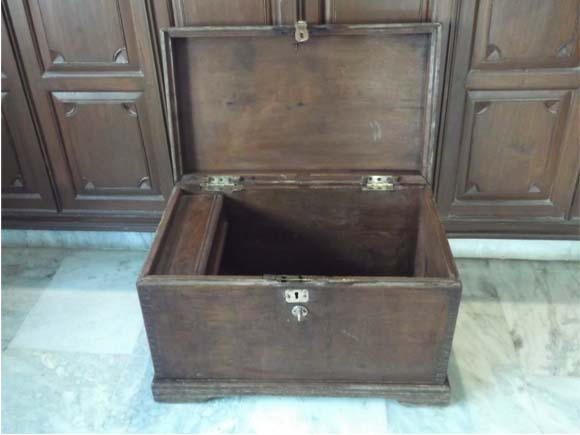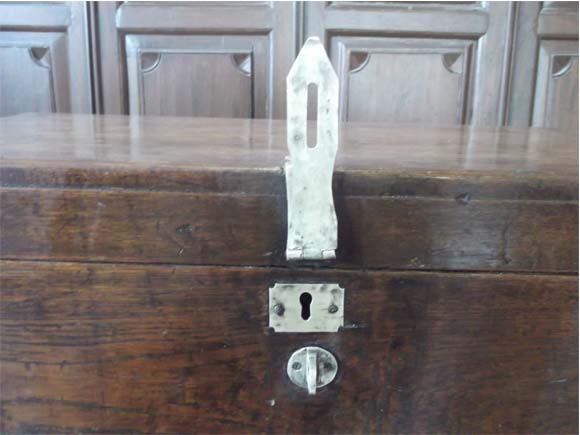 The Story of the Box
The story of the box is enveloped with the feeling of gratitude of a family for a village head. The story starts in a village named Vanapalli in the Konaseema area in East Godavari district of Andhra Pradesh, India during the World War II. Many workers from this village went to Burma (the present day Myanmar) for work including a group of carpenters. In those days, telephones were not available in the villages and the only way of communication with the Burma workers and their families in India was by postal letters. Most of the families in India were illiterates and they did not know how to reply when a letter came from Burma.
My father-in-law's father, Sri Machiraju Pullam Raju, was a Karanam (government representative) for Vanapalli village. In those days, karan was the virtual head of the village and the villagers used to approach the Karanam for any help they wanted.The families of Burma settlers were coming to Pullam Raju garu (garu is a Telugu word used to express respect) whenever they got a letter from Burma so that he can read the letter to them and exchange family welfare.He was also helping them in writing letters in reply. The families also took his advice on various issues in their families. Thus, Pullam Raju garu became a main link for the families to exchange information between Burma and India.
When the Second World War was declared, India was under British rule at that time. The Indian British troops were moved to Burma to fighting against Japanese army who had created a base there to fight against the Western forces. There was lot of commotion in the village Vanapallias they heard from the newspapers that Burma was bombed. The families were worried about their men at Burma and the frequent letters of exchange made Pullam Raju garu closer to the villagers. During war time,around 1940 some of the workers returned back to India and among them were some carpenters. The workers that returned from Burma were visiting Pullam Raju garu with their families to show their gratitude for the service rendered by him. They gave him some gifts that they brought from Burma. Few carpenters brought him foldable easy chairs. Seven carpenters brought him Burma teak wood trunk boxes; one each in different sizes. The one shown here is one out of them. This box is around 72 years old.
Pallam Raju garu had five children, two boys and three girls. The eldest son,Sri Machraju Bhaskar Rao was married to my aunt (Father's sister)Machiraju Satyavathi. Subsequently, I married their daughter and he became my father-in-law. Pullam Raju garu gifted one box to each of his children. The remaining 2 boxes he has given to his friends. My father-in-law's box was kept in our ancestral house in Someswaram since he was moving to Madras (present day Chennai) for his job and he did not have much space in his Chennai rented house to accommodate this trunk box. This box was being used by my mother who used to keep her valuable possessions in this box, including her wedding Banaras sari, my father's Salem silk pancah and kanduva, her gold jewels, silver items like dinner plates, glasses, bowls, gandhapuginni (sandal wood paste bowl), rose water sprinkler and many more interesting items.
I and my sisters would flock around the box whenever my mother opened it to peep into various items that were stored in it. There used to be a small lakkabharani( lacquer box) in red colour in which my mother used to keep small items like gold rings, ear drops, locket with Anjaneya emblem and few silver coins. Sometimes my mother used to allow us to touch and feel them till our curiosity was satiated. Then she would put them back into lacquer box .The lacquer box goes back into the trunk box and is locked. My mother would then tie the key of the lock to the corner end piece of her sari.
My father-in-law never claimed the box. As an engineer, he used to get frequent transfers in his job and this heavy box was an inconvenience. The box has made our house its permanent home. My mother stayed in our ancestral house in Someswaram till the death of my grandfather in 1970 and thereafter she was living with us at Chennai. When she came to Chennai she brought with her the Burma teak wood box also along with her baggage.  Since then this vintage box is with me as a symbol of the noblest feeling called gratitude.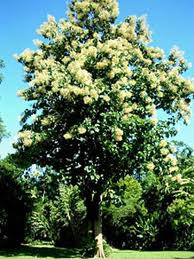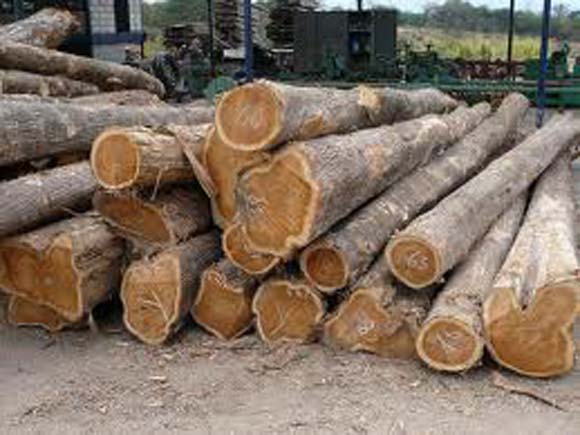 About teak wood and teak wood tree
Teak wood can be crowned as the strongest and most durable wood in the world. Teak wood has highest oil content and hence this wood has the power of rot resistance and protection from the infestation by the insects.It is the ideal wood for making boats since it is water resistant.It is widely used for making outdoor furniture for it can withstand any kind of weather.
The wood name "teak" is derived from Tamil word Thekku. The botanical family name is Verbenaceae and belongs to the sub-category of Tectona. The teak wood tree can grow up to 150 feet high and can live for 100 years. It is native to Asea and mainly grown in plantations in  countries like India, Burma, Indonesia, Thailand and also Philippine islands. The fragrant white colored flowers of the tree bloom in clusters and bear fruits  by insect pollination. The seeds of the fruit are used for plantation. The tree has big leaves with hairy structure underneath the leaf.