Health Benefits Of Drinking Water Stored In Copper Vessels
These days even doctors recommend patients to drink water stored in copper jugs overnight on empty stomachs. Our ancestors were wise and intelligent; no wonder they used vessels made of brass and copper and they lived a longer life and were healthier than our generation. Also according to Ayurveda, there are three doshas in our bodies namely vata, kapha and pitta and it is commonly believed drinking water stored in copper jug has the ability to balance all these three doshas of our bodies.
Most of us store water in steel jugs or plastic bottles and we know drinking water in plastic bottles is not safe. Fancy bottles available in markets are made of cheap plastic which can cause health hazard in the long run. Steel vessels are better compared to plastic bottles but the best ones are the jugs, lotas and chombu that are made of copper. These copper vesselspossess an antique look and a vintage touch.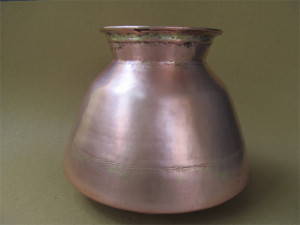 Given an opportunity, I would love to have only brass and copper utensils at home. The reason behind this is: firstly it looks classic and adds glamour to your kitchen and secondly it is healthy to eat or drink in these vessels or utensils. I had heard so much about the copper wonder jug that I literally wanted to own it, but at the same time I never really went out to buy it. Like they say if you really wish for something, it will come true and guess what? I got a classy looking copper jug as a wedding gift, I was on cloud nine then and I still am. The reason why I am going gaga over this jug is because it has quite a lot of benefits and I personally have experienced them.
These copper vessels, particularly the antique copper jugs, tumblers, drinking pots and storage vessels are a style statement in themselves; they come in different shapes and sizes. Some even have matching accessories that can make your dining table look royal. These antique copper vessels look traditional but at the same time they are so elegant. I am sure by now you are already visualising a copper vessel in your house.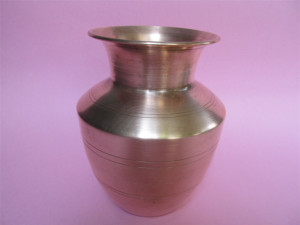 Well, let me tell the benefits of drinking water stored in copper vessels. We are aware that our body needs adequate amount of minerals and one such mineral is copper which when consumed in small quantity helps in proper functioning of our body. Copper, when it comes in contact with water, releases its positive properties, which is extremely healthy.
Drinking This Water Can Help Us In Many Ways
Copper helps in digestion and prevents ailments like ulcers and indigestion. Copper has the properties to kill harmful bacteria in the stomach.

Drinking water stored in copper vessel in empty stomach can detox your body and helps in proper functioning of liver and kidneys. It further aids in weight loss and slows down aging.

As copper is anti-bacterial in nature, it helps in healing wounds and boosting your immune system.

Recent studies show that copper helps in regulating cardio vascular diseases, hyper tension and can even help in fighting cancer.
There are hundreds of other benefits, you will have to believe it and trust me you won't regret buying a nice antique or contemporary copper vessel.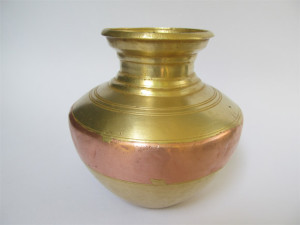 However, before you pick it off the shelf there are a few things you have to be cautious about. While buying a copper vessel, for example, look for a vessel that is made of pure copper and not a one that is an amalgamation of alloys. Copper is a soft metal and it is difficult to mould it into delicate designs. If there are carvings or if the vessel looks really fancy then you have to understand that there is some other metal mixed with copper. Hence, it is better to buy pure copper vessels that look simple and plain.
Next thing to do after purchasing the vessel is to clean it thoroughly. Before you start using it, make it a point to clean it properly with soap and lime juice. You can cut a slice of lime and rub it all around and inside the vessel, rinse it with clean water and pat dry. You can also use tamarind fruit juice in place of lime.
Avoid using coarse scrubbers as copper might erode and there may be scratch marks on the vessel.You can also use baking soda with water to wash your priced copper vessel. Avoid using the branded chemical cleaners that are available in the market since they interact with copper metal and take away the upper layer of the vessel.
Did You Know?
About two glasses of water stored in a copper vessel per day is enough for you to reap the benefits.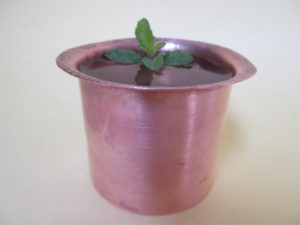 Gifting Idea? Why Not?
The copper vessel would be an ideal gift for every occasion. So next time when you have to attend a wedding or a birthday party, you know what to buy. You would be giving an item at the same time you would be gifting good health. Age old techniques that have passed the test of time always have to be valued and preserved. Copper vessels were a part of ancient Indian civilization; we can make it a part of our lives in present times and pass it on to generations that would come after us.
Storing Water In Copper Vessels. Not Just About Glasses Anymore!
There are so many ways of storing water in copper vessels to get the health benefits.
You can use a big copper pot to store water and take it out from the pot whenever you need for your regular drinking purpose. The big vessel can hold water for your requirement of 4 or 5 days requirement. This way you need not have to bother whether you kept the water in the previous night in a small vessel for your next day morning drink.

You can also store water in a jug or an Iyengar chombu which would hold minimum 2 tumblers of water that will serve you throughout the day. Adding few Tulasi leaves will further enhance the benefits of the water and imparts a pleasant aroma to the water.
You need not have to worry if you do not have a full copper vessel. There are traditional vessels available with the combination of copper and brass like Ganga Jamuna Lota, the brass representing the river Ganga and the copper representing Jamuna are equally good to store the water since you get the benefits of both the metals.
So what are you waiting for? Have something to ask? Feel free to ask and we will be happy to help.
Lovely Article by,