Personal encounter with Antiques!
I have known YK Sir for little over a month now, we were introduced by a common friend and since then we have been exchanging mails and talking over the phone. I can say we have been bonding over antiques. We never met officially until last Saturday (26th December, 2015). After exchanging a couple of mails- planning our rendezvous, we finally met and ever since that meeting all I am doing is thinking and visualising about the items(rare, classic, vintage and old) that were displayed in his house. I went along with my friends who had come down from Bangalore for Christmas vacation and they can't stop raving about what they witnessed. All of us were mesmerised and captivated by his signature collection of antiques. I felt like I was inside a museum and not in a house. Every nook and corner of his house has found a place to hold an antique and a rare item. Hats off to you sir! For your passion and commitment towards protecting the culture, heritage and art. You have been instrumental in telling and teaching history, art and literature to our generation. We will be ever grateful to you for starting this venture to make art and antiques available to all.
There are items in his house that we had never even imagined in our wildest dreams, trust me it actually existed, some of them were extensively used by people back then. Few of the displayed items are very old, I can say as old as the mountains; it dates back to the seventeenth and eighteenth century. I felt enlightened when he showed us the measuring cups used in India, during the imperial rule. These little cups were used to measure grains, rather than the weight, people those days focused on the volume of grains that the little cup would hold. The basic measure of volume capacity is Gidda. Gidda is defined as that much volume which holds 900 rice grains and which equates to 5.837 cubic inches. These cups used to be of different sizes and thus the measurement differed.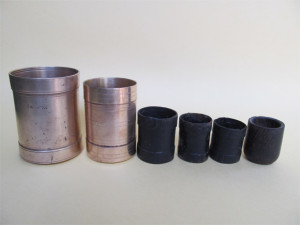 Yet another piece of artistry that caught my attention was the knot detangler. It belongs to the medieval time and it is made of brass again. First look at it, you will be sure it is a cutlery item, looks more or less like a two tooth fork but your guess is far from reality. This mystical looking object is an item of vanity, it is an older version of modern day hair brush. It was used by women back in the days to detangle the knots from their hair. It leaves you speechless, at least I was, I started wondering how could people hundreds of years without modern day technology make such wonderful objects.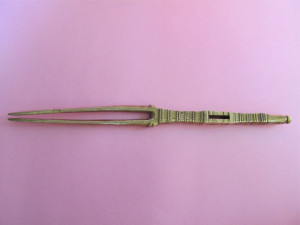 Another item that left me awestruck is the way he has improvised these antiques and converted them to household items that can be readily used today. For example: his dining table is made in the most innovative way; The base of the table is a huge brass water storage pot, called gangalam that can stand upright. Brass pots are heavy and cannot be moved easily, so he has taken that simple logic and fixed a large glass sheet on the mouth of the pot, which would have been otherwise fitted with a lid, and the result is an excellent vintage and antique looking dining table. As glass is transparent it doesn't hide or cover the intricacy of the pot; so while you are eating your meal you can also get a good glimpse of the pot below. Similarly his centre table is a smaller looking brass pot with a yet another glass sheet. He has successfully blended classic looking antique with glass. This gavehis house a perfect ambience of contemporary as well as an antique look.
There are hundreds of items that he has collected over the years belonging to different cultures, used by people from different religious backgrounds and used in different time periods. His collections range and vary in size; some are enormously huge where as others are miniatures. No matter how old they are, how big or small these artefacts are they tell a story and bring back the culture and heritage of people who lived in that era. We can only imagine how they lived and what kind of life style they followed, these antique and rare collectibles act as a medium or a pathway between us and the people who were part of our rich culture and history.
Article by-
Srizna Nasme