The Click And Whirr Of The Vintage Portable Typewriter
Now, the bibliophile in you is tap tapping away at a computer every night as you churn out your master pieces, all the while hoping that you had one of those fancy type writers. How do I know this, you ask me? That's because I have the misfortune of having a brain that constantly obsesses over old and outdated things as well.
Now that you know about my obsession for good old things, it's time to tell you about the one fascinating portable vintage type writer that I saw recently. This is not to say that I now have a vintage typewriter sitting in front of me, I'm learning all I can about everything I can really. In this process, I got to see the most wonderful specimen I am about to describe to you. I happened to visit the mini museum of antiques of Y Krishnamurthy and this beautiful piece caught my attention. Immediately the writer in me got into the details of this master portable type writer and now is this article in front of you.
It is a wonderful, light machine that weighs about 3 kgs and is very easy to carry. It comes with its own case that is a part of the body of the machine itself. How cool is that? Now it comes from somewhere around the mid-1960s and 70s when these were all the rage it seems. In fact, the antiquities expert who was showing it to me even cheekily said that they were the laptops of the era. Probably when they first came out, they would have been about 100 dollars, which when adjusted for inflation makes them super expensive in comparison to a laptop nowadays!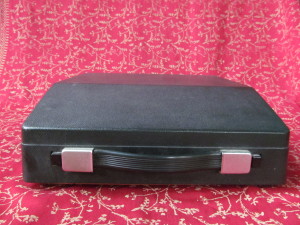 Being an item of age, it did have some basic minor blemishes and flaws. The paint under the space bar seems to have subbed off with age, as is with the right side and it shows obvious signs of use. Otherwise, I am assured that it is in perfect condition and has been cleaned and oiled and is ready for use. The case as well is in perfect condition with the clasps fitting in quite perfectly.
It was made in Japan, as it says on the machine itself, by the Welco Company, one of the more famous ones in the era, in the world of typewriters. Although it doesn't really rank very high in the most popular list of typewriters, it was popular as the everyday man's tool.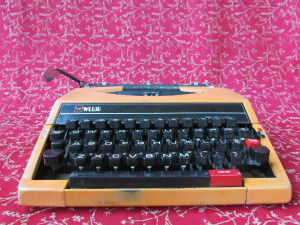 Here are some of the basic facts about it:
Company: Welco Electronics CmbH, Japan. Made in Japan
Brand Name: Welco
Model Number: 280 DELUXE
Serial number: 81011648
Colour of the box: Black
Typewriter: Yellow body with black and red keys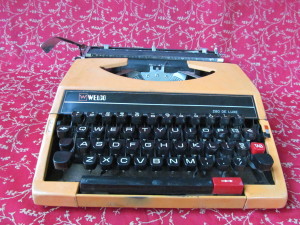 Start by understanding what the components of it are:
The knob to roll the papers
The platen to hold the papers
The bail to figure out where you want to start writing
The paper release to balance the paper
Carriage to put the whole thing together
Finally, you are ready to start typing.
A Basic Run-through
Here is how you use a typewriter. The first thing you get some good A4 sheets to type on. Step one is to insert the paper you are typing on over the platen. Make sure that you put two of them to protect your platen. Insert it correctly so it fits in fine. The next step is to roll the knob to ensure that the paper is in position for you to start typing. Remember that once you have typed something, there is no undoing it, so you want to decide what you want to put down on paper before you sit down to do this.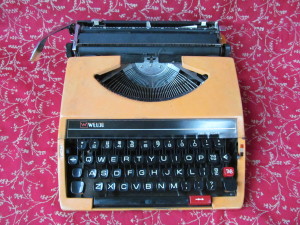 When you finish typing all that is on your mind, turn the knob to release the paper and you are done. Pull it out with a flourish for now you have joined that elite group of people can write a whole page without needing to 'ctrl+z' every four seconds!
In case you do a mistake in spelling the word, the only way to correct it is by painting the word with white correction fluid (almost the colour of the white paper).The wrong text is masked with white correction fluid by painting the text with the white fluid .The paint has to be dried completely before you retype on the painted section. The white fluid is packed in a small bottle with the cap attached with a brush which is always immersed in the white fluid.
Mr. Krishnamurthy tells me that this wonderful piece was purchased by his brother-in-law V. Venkateswara Rao in London way back in 1970s. Mr. Venkateswara Rao was deputed to a railway project in Nigeria and in one of his visits via London he has purchased this item. Ever since, he has been profusely using for his correspondence including a post card and inland letters. After the advent of cell phones, the classical way of communication through letters has become outdated and so the type writer. Knowing his passion for antiques, Mr. Venkateswara Rao gifted the pretty machine to Mr. Krishnamurthy for his collection.
Let me tell you about how to buy a type writer if you had to ever wanted a vintage portable typewriter of your own.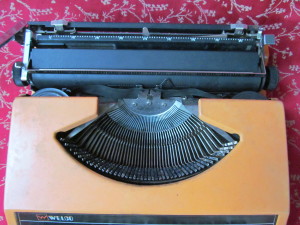 Here's your very own three step guide to understanding vintage typewriters:
First: HOMEWORK. Go online, look around, and learn all that you need to know about type writers. One of these late 90's sitcoms had a girl who thought that she typed everything out, and all she needed to do was hit print. Don't be that girl! Understand completely what it is and what kinds exist. Doing a bit of research on what kind of a typewriter and what companies are out there, or were out there, will help you get a better understanding of what you want and how best you can procure it.
What I mean is this: You would think that QWERTY is because of typewriters, but there are some vintage ones that don't have a QWERTY keyboard. Go figure!
Second: DEVIL'S IN THE DETAILS. If you know what the parts of your typewriter are, you will know if the vintage typewriter you want will need repairs after you get it. Knowing how much damage is there will help you determine if you want it or no. Become familiar with the keys and the mechanics of it all as well.
Helpful tip: This way, you know if the person selling it to you is just making up names of parts to fool you!
Third: VALUE. When you finally decide which one you want and have an understanding of whether it suits your needs, make sure you get a good one. If you go online to get one, make sure that you do it from a place that is not likely to sell you a fake. Or if you can go to a dealer or an antique shop or even a pawn shop, they will have an idea of what the real deal looks like and what it is supposed to be. And if they know what the real deal is, they will know the real value of the object. So that is your best bet. If you are buying it from a garage sale, chances are, there's a great story in there.