Go Vintage With Your House This Winter!!!
How many times have you visited a place and got blown away by the ambiance and decor? Recently I visited a hotel in Udaipur and I was mesmerized with the way the hotel's decor was done. There wasn't a single item that belonged to today's world, from the flower pot to the statutes, it all appeared classic and vintage. Every artifact looked like an antique in itself. Everything that was displayed in the hotel lobby, courtyard of the rooms screamed out culture and heritage. Most of the displayed items belonged to the seventeenth century and it was used by the royal family. As a guest I felt that kind of an ambiance can be recreated at home. I realized with a little bit of patience and a few old & vintage looking items we can rekindle the same magic that we normally see in pictures and magazines.After all home is where the heart is so turn your house into a home  by making a few changes. Here are some tips to revamp your house.
You can never go wrong with a vase, flowers or candles any day. But if you want to give a rustic look to your house replace the vase with some old and antique looking brass or copper pots. This look in your living room can be achieved by placing a large brass or copper pot on the center table. Fill the pot with water and drop some fresh rose or marigold petals. Once all the petals are buoyant you can make it look special by leaving a lighted floating candle.  Another option to instantly light up your house is to arrange fresh flowers in brass baskets. These baskets with handles used to be carried when people went to pluck flowers in the olden days. This would be a perfect blend of antiquity and contemporary decor. Simple yet elegant display of the pot with petals will surely give your living space a royal feel.
If you are a plant lover and want to flaunt your indoor plants then replace your earthen flower pots with gleaming brass pots that are readily available in the market. You also have an option to mount the earthen flower pots on top of huge brass or copper vessels.A few brass flower pots inside the house will definitely be a head turner, it would not just be a center of attraction but also your house will get a classic and vintage feel.   It would make your visitors believe that you are a sure shot antique lover.
Now let's talk about wall decor, most of the times we end up hanging photo frames or paintings on the wall, but have you ever thought of making your wall look different. How about adding some antique twist to your wall? Many a times you must have come across carved frames but never paid attention and left it untouched at the shop, now remember next time you see one of those antique looking frames just grab it and get it home because there a lot of ways you can play with those frames to give your house an exuberance look. Simple way is to fix those frames on the wall in your bedroom or living room. You can insert your own picture and get it framed or use some classic looking paintings to add a touch of class.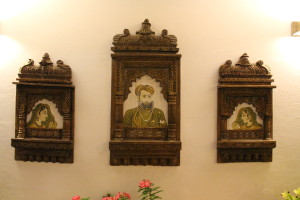 Remember we got to mix our personal taste and style while doing up the house. No matter how modern or sophisticated we are but when it comes to decorating our houses we always prefer having rare and antique looking objects. These rare collectibles add an aura to your house that can't be neglected, it also emits positives vibes and brings back history and culture.
I prefer collecting antiques and artifacts while travelling and adding them to my personal collection. Each place we visit has its own historical and cultural significance and most of it is portrayed in the artifacts. Also the cost of these items in its native place might be a lot less compared to the same item being sold elsewhere hence it is a good idea to buy it.
Remember not to clutter the house with too many things, it's better to have one or two rare and big objects in the right place so that it can grab all the attention of your visitors. Displaying too many small items might lose its essence and value and your antiques might get over shadowed.