Bonding Over Antiques – An Interesting Association
Recently, I have added some more antiques to my collection, all thanks to a random visitor to my blog. How I acquired those antiques is a story in itself. Mr. Rajappan happened to stumble upon my blog by chance and shared that he had some antiques with him too. We exchanged messages and a couple of phone calls later; I was on my way to his hometown to take a look at his antique collection. I casually happened to mention to him that he should write about his love for antiques sometime. He actually did so and shared an article with me. I'm very happy to share his article with you. Hope you enjoy reading it.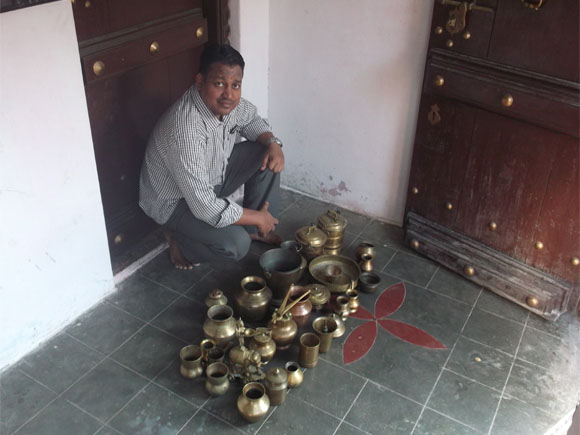 I have always been different since my childhood with respect to my likes, interests, hobbies etc., unlike the general choice of children to go for toy guns, chocolates etc. I liked to collect stamps, coins, and spent most of my time reading about Indian history and the glorious past of our great country.
My First Tryst With Antiques
 One day, while I was at home (fortunately), a scrap dealer had come for buying old utensils and other things.  My mother accidentally gave him an antique bronze artifact which was with our family since a few generations.  It was extremely beautiful and the workmanship and detail was amazing.  I immediately noticed it and prevented it up from going into the hands of the scrap dealer. To be frank, I wasn't happy with the fact that my mother was about to give it away to a scrap dealer without realizing that it was an integral piece of our culture. When I asked her about it, she told me that it was due to some distraction in the kitchen that she failed to notice and promised me that she would be more alert while disposing things to the scrap dealer in the future. This seemed to pacify me a bit. Not knowing what happens when old items are discarded as scrap, I prodded a bit more and my mother then explained to me that such articles were generally smashed by the scrap dealer. We both realized that we almost lost a piece of history forever with which the memories of all the family members who might have used such articles were associated.
We got talking and my mother said that she herself liked old things because they were part of the family heritage almost all of the old items we had with us ware given to her by her parents as gifts at the time of wedding. She also said that such articles of bronze and brass were made with true skill and dedication by the artisans in the past. They had ample time to work with earnestness and were proud of their work and things were made to last forever unlike things of today which are mostly 'use and throw' type.
My father was listening to our conversation all the while and he told me that the gold, silver, brass, bronze and copper utensils had anti-bacterial properties and therefore our forefathers had true vision and foresight to use these in temples for preparing 'naivedya' offering to the deity.  Even the pious idols of the God were made with the alloy of  gold, silver, brass, bronze and copper known as 'Panchaloha metals' meaning five noble metals in different proportions.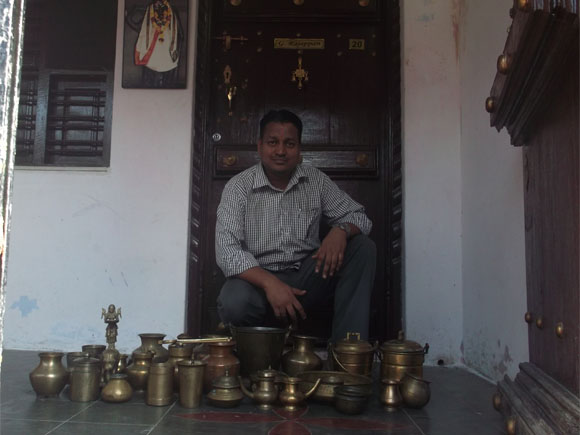 Old Is Truly Gold
The metals of yesteryear had some medicinal properties as well as they stabilized the deficiencies in the body  as food was always prepared in brass vessels which were coated with tin to prevent the food from getting spoilt. Thus, there were very few health issues and people lived a healthy life till their death. But now there are so many new age materials like aluminum, teflon etc which we use and we don't realise that we are actually speeding our way towards more and more health issues. Isn't it an alarming fact that even children are developing diabetes, blood pressure, poor eyesight and lack of immunity nowadays?
My Association With YK Antiques
I was surfing the Internet one night and came across Shri Y. K. Murthy ji's blog by chance. I was immediately attracted to it as iron would to a magnet.  I read the different articles posted on the website by Murthy ji and others and saw the pictures. I got in touch with him and let him know that I had many things similar to the collection he had. During our conversation, he divulged his idea of setting up a museum of these antique treasures for the sake of our future generations. His idea was that the modern generation shouldn't forget to appreciate our great civilization and must carry the traditions forward.
The effort and passion of this noble gentleman gave me an idea to handover my long cherished family possessions in the form of  brass, bronze vessels, because I was damn sure that he is the right person to take utmost care of these things. Any other antique collector would have given me a lot of money, but my intention was not to make money, but to see it to it that these things are preserved and shown to as many people as possible who would want to see and know more about them.
I invited Murthy ji to come to my place at Malli, a small village near Srivilliputhur, which was kindly accepted by him and on meeting him at my residence, I came to know the genuine enthusiasm of this senior citizen which was like an innocent child.  He was eager to know more about everything I told him.  I escorted him to the temple and on his request accompanied him on this departure to Madurai as the weight of the things was too much. Even at this prime age, he can put any youth to shame with his energy and spirit.   He is a fitting example to all the youngsters and others who lose hope with life and take to alcohol, drugs, smoking, gambling and other such vices and commit suicide, that life is worth living and to live it to it's fullest and to be of  a guiding lamp is what personifies him.
Who Am I?
My name is Rajappan and my father's name is Gopalan. I belong to the Vaishnava Sampradaya, colloquially known as Iyengar community.  We primarily worship only Vishnu and his avataras like Rama, Krishna and others along with Laxmi. Our community is spread all over the world and some of the noted personalities are K. Srikanth (Cricketer), Jayalalitha (C.M. of Tamil Nadu), Kamal Hassan (Actor), Vyjayanthimala (a very famous and popular actress of yesteryear) to name a few.
Our main centers of worship are Sri Rangam in Trichy, Tirupathi, Trivandrum, Guruvayur etc.
Ramanujacharya is our foremost acharya who was a great revolutionary in the field of religion during the 12th century.  He considered everyone irrespective of their caste as equal and also brought many so called untouchables to the Sri Vaishnava fold.  He is also an example of a selfless guide to his disciples.  You can read more about this great soul on the internet.
My Grandmother would often tell us that her forefathers belonged to a group of families who were instrumental in building the famous Venkateshwara temple at Tirupati and many generations served as temple priests there and they were respected and patronized by the King Thirumalai Nayakar and other Kings of that time.
A Little Bit About My Family
My father was a Central Government Employee and I did all my studies in Mumbai.
My mother was a housewife.  She was not much educated, but through her sheer grit and will-power she learnt many things in life and would even surprise highly educated people with her thoughts. Both my parents have passed away. May their souls rest in peace.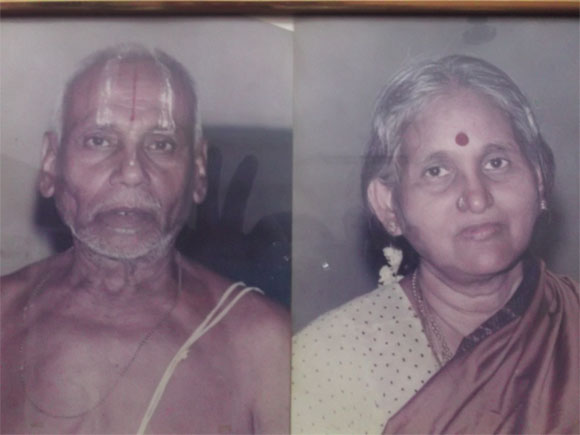 Coming to my siblings, we are three brothers. My elder and younger brothers live in Mumbai with their respective families.
From The Maddening Metro To My Roots
 After working for many years in Mumbai, at one point I just got fed up with the daily grind of the city life and realized that money is not the only thing which gives one happiness.  Money is important, but contentment and peace of mind are equally important if not more important.
So, I decided to move to my native village. Being spiritually awakened, I did not find it difficult to settle down and get myself adjusted to this change. I got married after I came to my native village and am blessed with a daughter.  My wife's name is Priya and my daughter is Srinidhi.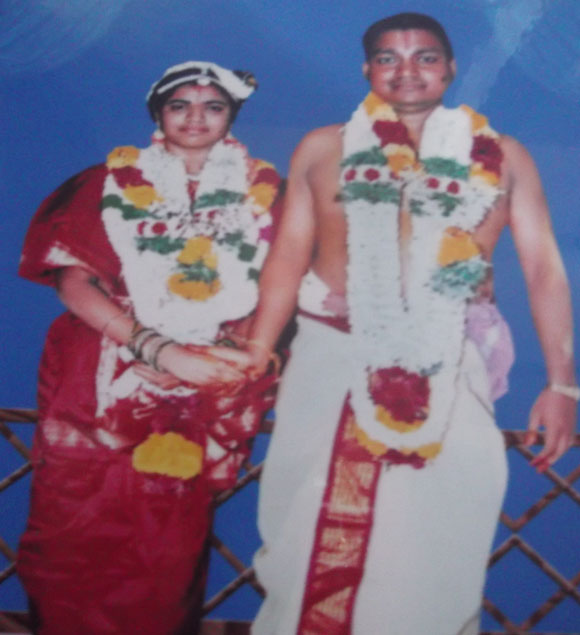 I stay in an Agraharam (an exclusive Brahmins street in ancient times) village called Malli which is about 8 kilometres from Srivilliputhur, a temple town in Virudhunagar district of Tamil Nadu.  It is famous for the temple of Sri Andal, who is the incarnation of  Lakshmi and one of the 108 divya desams of Vaishnava Sampradaya. She is also the only female Alwar (saint) out of the 13 Alwars in the Vaishnava Sampradaya (Tradition). The Gopuram of this temple is the emblem of the Tamil Nadu Government. The temple is more than 1500 years old and the wooden chariot is the biggest in India.
There is a lot that I would like to share and maybe in the coming days or months I will write about different topics which are important.
If any of you are interested in acquiring genuine brass, bronze, painting artifacts please let me know. You can get my contact details from Shri Y. K. Murthy.