Antique Glass Jar With Lid
This antique glass jar with lid shown in the picture has subtle curves, clean lines, with bulbous lid handle. The glass container is hard by nature, neutral on pallet and visually gives a relaxed feeling when looked at.The magnificent visibility is a great advantage to identify the contents quickly. This was purchased by my Grandfather Yenugu Krishna Murthy garu in the year 1916 and it is now 98 years old. Garu is a Telugu word used to address elders with respect. I have a lot of emotional attachment to this bottle as it is a companion to me for several years feeding me with variety of snacks.
I lost my father at a young age and I grew up under the care of my mother and grandfather.Though I used to have my regular food from my mother and snacks like onion pakoda, banana bajji and an occasional sweet item Mysore paak, my heart is to crave for snacks like chocolates, biscuits and sweets. For such items the source is my grandfather. My grandfather's room used to be very attractive for my young heart. There used to be a bed with high pillows,a writing table full of books,ink bottle with dipping pen, lots of books, an agarabatti (incense stick) stand in the shape of an elephant, a Rudraksha mala(a garland of Rudraksha prayer beads) brass and wooden cymbals for doing bhajan and a huge family portrait of Lord Shiva withwife Parvathi, sons Ganesh and Kumaraswamy, his vahanam Nandi and most interesting thing out of all itemsfor me is two cookie jars one  filled with Tapeswaram Kaja (a type of sweet made in town called Tapeswaram which is very famous in those days and even now for the sweet item Kaaja) and one filled with J.B Mangharam brand biscuits, chocolates and peppermints. My grandfather used to take biscuits along with his morning and evening coffee and used to chew peppermints during afternoon times when he used to feel his mouth was dry .Though he never used to take sweets he used to keep them for me and my sister and other children who used to visit us. Whenever we feel like having some snacks we used to go to his room and he used to give us biscuits peppermints and sweets. So my association with these glass jars are very pleasant and whenever I see these bottles I am immersed with nostalgic memories of my grandfather and his room.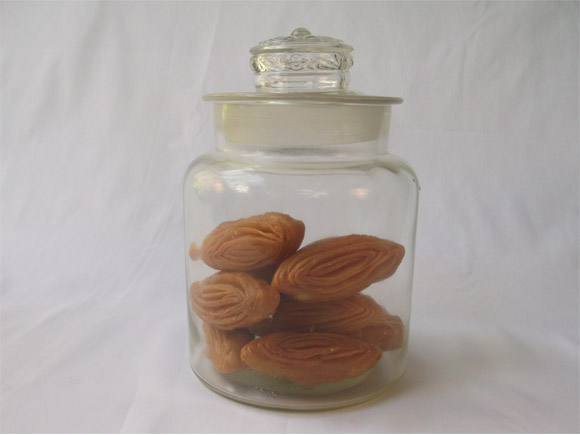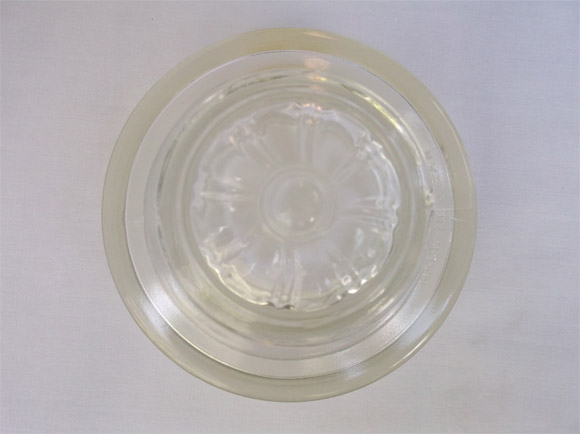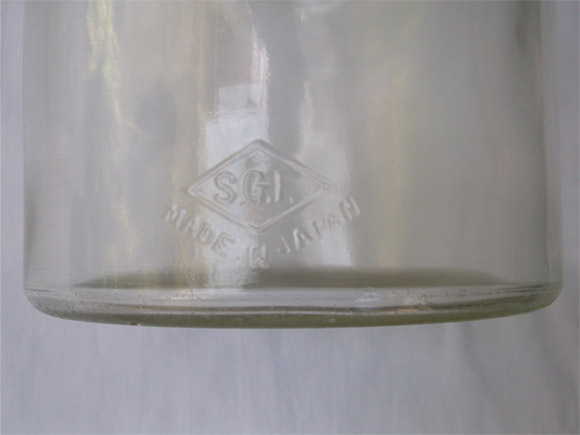 It is also interesting how he got these beautiful bottles.Those were the days of British rule in India and some of the pockets like Yanam in present Andhra Pradesh and Pondicherry in present Tamil Nadu state were French colonies.My village Someswaram is around 40 miles from Yanam. French used to do their own trading and the foreign shipments used to come to Yanam which has a moderate port. Thehawkers from the villages around Yanam used to smuggle interesting items and sell them in nearby villages carrying them in bamboo basket held on their head. They used to come to our village also and used to come to our house being a regular customer. During one of such visits they brought these beautiful glass jars and my grandfather fell in love with these cute jars at first sight and purchased them.
The imposing antique glass jar   has a stamp embossed on the body as "SGF" with a diamond design around it .Down the diamond design are embossed letters in capital reading as  " MADE IN JAPAN ". The word SGF stands for the company that manufactured this jar and obviously made in Japan. The lid also has embossed inscription "MADE IN JAPAN".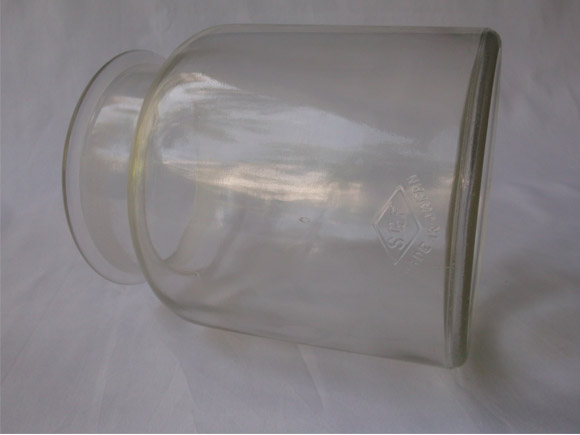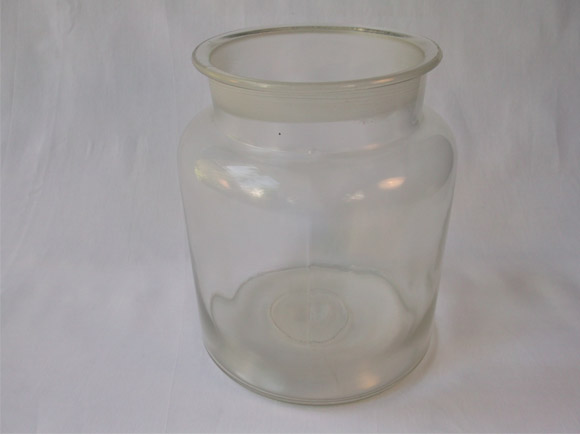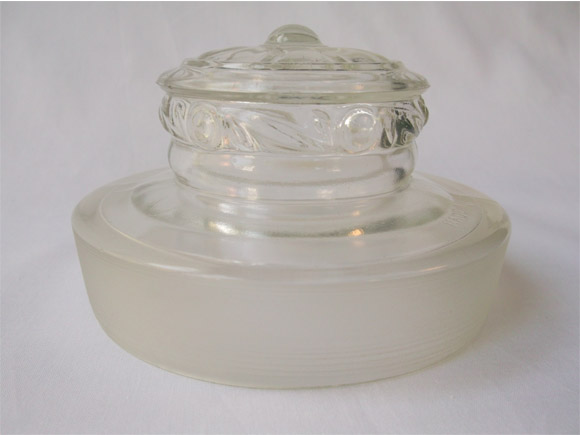 The antique glass jar with lid is round Barrel shaped with 6 inches diameter of the barrel and height of 7.5 inches. With the lid it is 9 inches high. The barrel narrows into a neck with an opening of 5 inches diameter at the mouth of the neck. There is a beautifully designed lid to the bottle which fits into the bottle by friction.The neck of the bottle is1.5 inches high and the collar of the lid is one inch high which snuggly fits into the neck of the bottle.There are fine grooves on the surface of the collar which help to have a tight grip and prevent insects.It is almost air tight. There is a beautifully designed knob on the lid with embossed pattern which serves as a grip and decorative appeal. The bottle has vertical mould seems running from top to the bottom of the glass indicating that the glass jar is made with machines around 1915. The handmade blown glass jars will not have the mould seems.
How glass Jars are made?
Glass is made out of sand(silica or quartz), lime stone(calcium) and soda ash. The mixture of these 3 components along with small amounts of ferric oxide, aluminium oxide, sulphur trioxide, barium oxide, magnesia are put is a gas furnace and heated up to 160 degrees centigrade. In some cases boric oxide is added to increase the durability and strength and lead is added for brilliance. The ingredients mix and melt and form into hot glowing molten glass. Normally the furnace runs for 15 years non-stop .With the help of automatic shears the running molten glass is cut into blobs known as "gobs". The gobs are pushed down into the shape forming machine and the glass is moulded. Air is blown into the moulded glass so as to fit into the mould completely thus forming a jar shape. This partially shaped jar is called "parison". The final shape of the Jar is done by passing on the Parison to another "blow mould" where air is blown into to get the final required jar shape. Then to make the jar tough and scratch proof, cool air is blown over it and then the jar is coated. The jar is further strengthened by passing it through an oven which is called "Lehr" and by heating it up to 550 degree centigrade.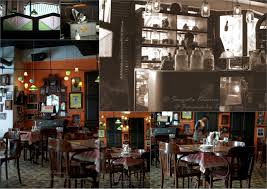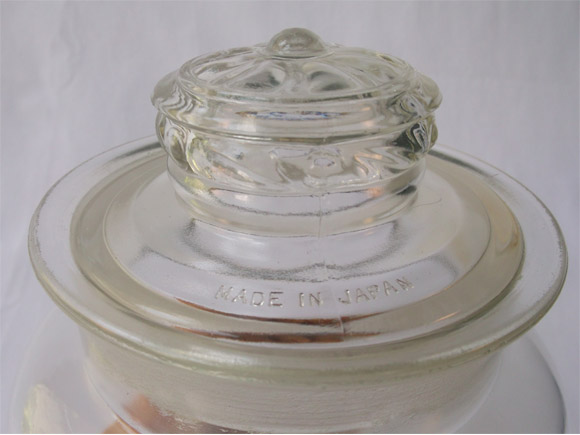 Multiple Uses of Glass bottle
This antique majestic glass jar can be used for storing and displaying many items. This wonderful see-through container with lid is used as Store counter canister to display prominently. This classic jar is a timeless piece that can be used in any room of the house. This can be used to store sugar, flour, candy, cookies, coffee, tea and snacks and many more. They make excellent cookie jars.  This can be used as a hobby jar to keep items like ribbons and wool which stay clean and dry. Ideal for display, in sweet shop that will give the shop an antique touch. The Iranian restaurants in Hyderabad and Mumbai used to keep their famous osmania biscuits in similar jars for counter display and to keep them fresh. These osmania biscuits go well with the Irani Chai (Tea). Any tourist visit to Hyderabad is not complete without tasting Osmania biscuits with Irani chai and Hyderabadi dum biryani in the Iranian restaurants for which Hyderabad is famous.
Types of glass
There are two types of glass production sheet production and container production. Jar and Bottle manufacturing is a part of Glass container production. The modern glass production uses machines while traditional glass making is done by glass-blowing and blow-moulding. Even now for creative art work and custom designed objects, glass blowing methods are used. Containers such as jars, bottles, tumblers, wine glasses, and bowls are made out of container glass. Glass items like window glass, glass doors, and transparent walls like in show cases are made out of Flat glass. Glass fibre is also made out of glass which is used for thermal insulation, fibre glass material and optical communication.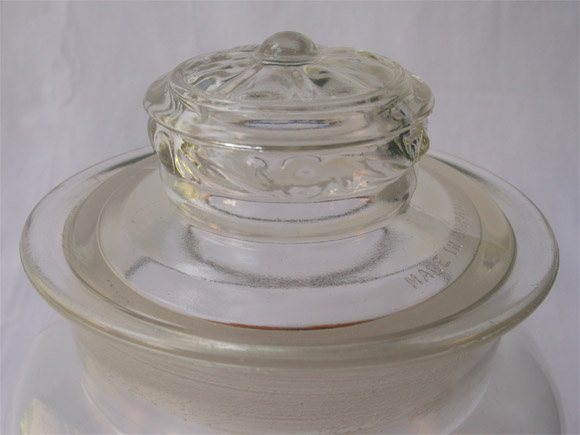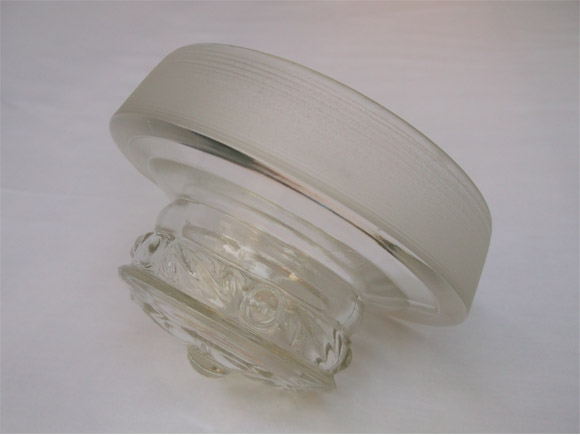 How to find the antiquity of glass Jars
The antique jars will give certain clues and specific characteristics by which one can find out the time when the jar is made.
v  All the jars made before 1860 can be identified by their Pontil scar. The glass blower used to hold the hot jar with a devise called pontil rod to protect himself while the jar is in making. This pontil rod leaves a dark indentation mark or a ring of glass on the base of the jar.
v  The glass jars made before 1915 do not have mould seems since they were not using mould to make the jars.The jars made after 1915 were made with machines with moulding technique have mould seams in the form of a line running from top of the jar to the bottom of the jar.So if the jar has mould marks it is made after 1915.
v  If you find scratches and scars on the bottom side of the glass jar,it was most probably made before 1915 by hand and not by mould. The jars made by mould will contain uniform marks.The handmade jars will have rough surface and seems around it.
How Glass gets its colour
The colouring of the glass is both a science and art.The natural glass has inherent shades of green tint, aqua, and light blue. These colours are produced by the iron content in the ingredients that used in the making of glass.Some ingredients are added to alter the natural inherent colours like manganese for purple; selenium for red, pink; cobalt for rich blue. Different host of colours can be produced by adding several elements used to colour the glass.
Use of glass in high technology products
Liquid Crystal Display (LCD) glass plates are used as components in products such as computer monitors, mobile smart phones,note books,tablets,television screens,microwave display panel.The latest wearable computer  "Google Glass"like a pair of eyeglasses contains a small glass LCD display panel and the main frame is made out of titanium and quality plastic for a lighter weight.
Some Interesting facts about glass
v  Decorative beads were made with glass as early as 12,000 BC by Egyptians.
v  The amount of iron and other colouring agents in the mixture determine the colour of the glass.
v  Up to 300 tonnes of glass can be produced by a single furnace.
v  Every year 1.4 million tonnes of used-glass is transported for land filling. 4.2 billion Jars and bottles can be manufactured if the same glass is recycled or reused.
v  You can recycle glass infinite number of times without the loss of quality.
v  In the year 2003, the recycled quantity of glass is 8, 90,000 tonnes.  2.7 billion Jars and bottles can be made with this amount of glass.
v  The energy saved by recycling one single bottle can power one television for 1.5 hours.
To know about milk glass, the discovery of glass and many more aspects of the glass please click on this link http://ykantiques.com/2013/12/vintage-milk-glass-tumbler.html