Diyas
Diwali, the festival of light. The best of all, silly reason to go bonkers bursting firecrackers. As children we learnt that Diwali is the celebration of triumph of good over evil, light over darkness.
Lamps have been a way to show our adoration to the deity. Our day begins with the lighting of the lamp; this lighting takes a different meaning on Diwali. The Kingdom of Ayodhya wanted to celebrate the return of their King Rama, who is an incarnate of Lord Vishnu, from his fourteen year exile. This was an issue because that night was Amavasya (new moon) dark without a silver of moon. To ward off the darkness every house in the kingdom lit lamps. The same tradition has been handed down to every Indian household and to this day we all await the day to illuminate our homes with lamps. This is the time when the streets look like a million stars have descended to earth. The joy of  lighting an oil wick and the pleasure of smiling in its flickering warmth. The bite of cold and glint of fire, all reminding us of the Great War and triumph.
The concept of lamps and decoration are symbiotic during Diwali. Most of us think of earthen lamps when it comes to decorations. This season do something different bring out that brass lamp that was closed in the four walls of pooja chamber, make it the epicenter of your rangoli and the earthen pots play minions. Brass Diyas are made with a great variety of detail like the deity and his representations crafted in form symbols. Apart from this the functional utility of the diya is also kept in mind so as to aid multiple purposes. Here are a few lamps from Yk antiques that might give you a few ideas for decoration.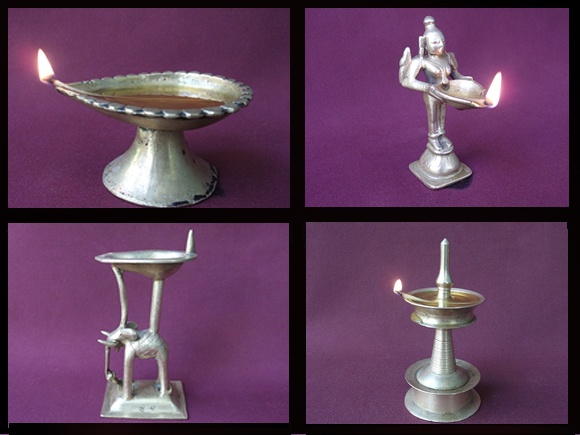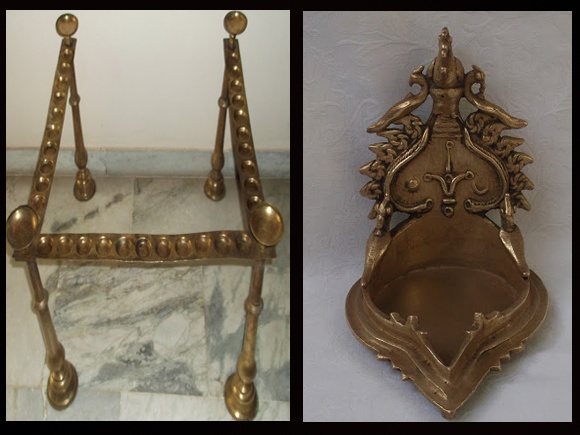 You can read more about the Diyas here
http://ykantiques.com/2013/03/antique-brass-oil-diyas.html
http://ykantiques.com/2012/03/antique-brass-oil-lamps-diya.html
http://ykantiques.com/2012/03/tulsi-pooja-oil-diyas.html
By-
Vyshnavi