Antique Brass Pedestal Bowl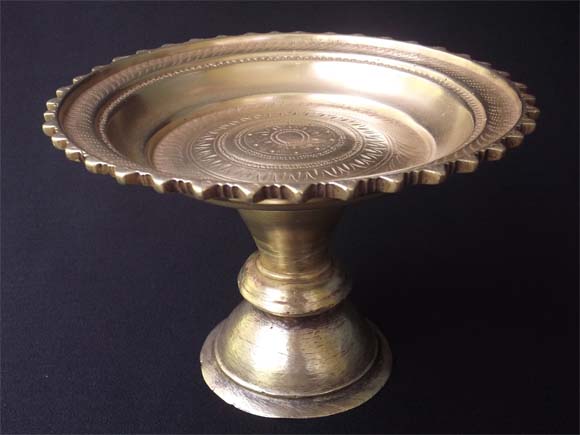 This is a beautiful brass bowl with a pedestal. Anything sacred is always kept on a pedestal. The statues of Gods, Goddesses, the sacred Kalasam are mounted on a pedestal because they are of ritualistic importance and should not be placed on the ground according to Hindu tradition. The Radukalu (divine sandals representing the feet of gods and goddesses) are always mounted on hollow Indian crown shaped pedestal called Satagopam also called Satagopuram .Likewise, sacred items that are to be offered to gods like flowers, fruits, chandanam (sandalwood paste) and other offering will also be kept in a bowl with a pedestal or a stand. I have collected this exquisitely crafted pedestal bowl that is used in temples for keeping flower and fruit offerings to the god. I have also seen such pedestal bowls are also used to keep Sankham (conch) that is used for doing Abhishekam (ritual water bath) to the deity.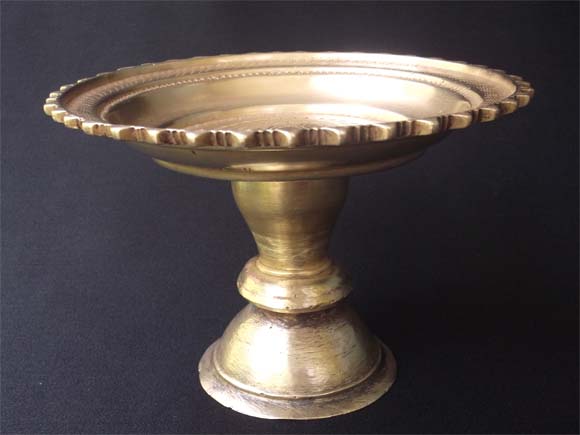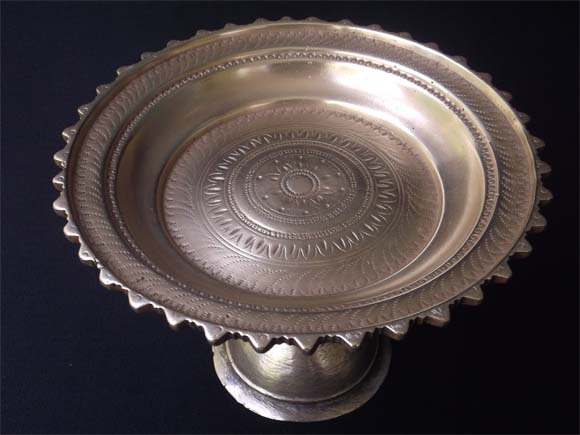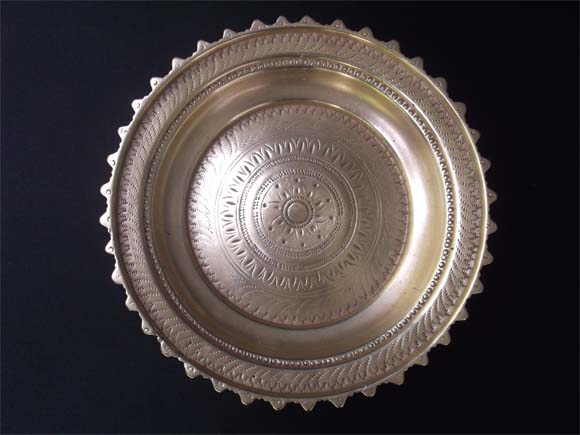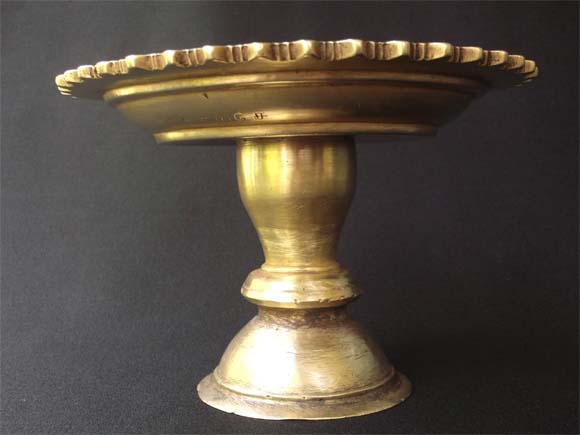 The Design of the Brass Pedestal Bowl:
This bowl sits on a five inch tall pedestal .The pedestal is in three sections. The base section is round with a diameter of 2.7 inches. The middle section of the pedestal is a ring like projection that serves as a grip holder. The top section has a long cup like design on which the bowl sits. The diameter of the bowl is eight inches. The bottom of the bowl is flat like a plate and the walls of the bowl rise from the plate with two steps. The entire bowl is intricately and wonderfully hand carved with immense aesthetic appeal giving a visual treat. There are 40 conical shaped projections all around the rim of the bowl which gives wavy design to the rim of the bowl. The bowl with the pedestal is made with high quality of brass and when it is polished it shines.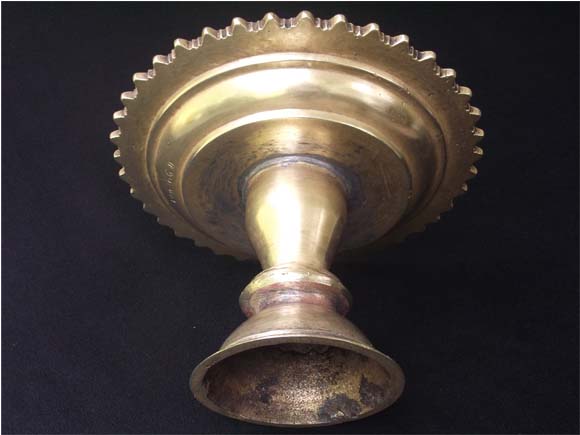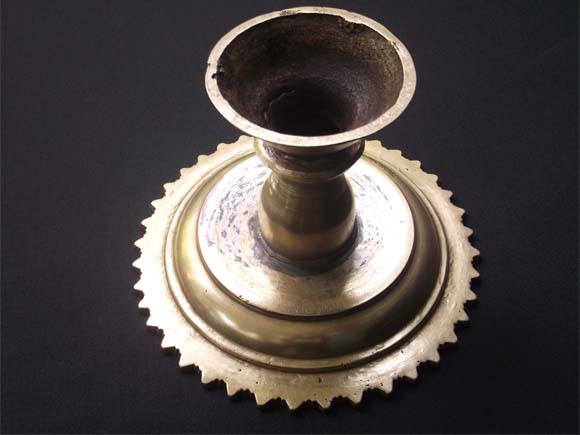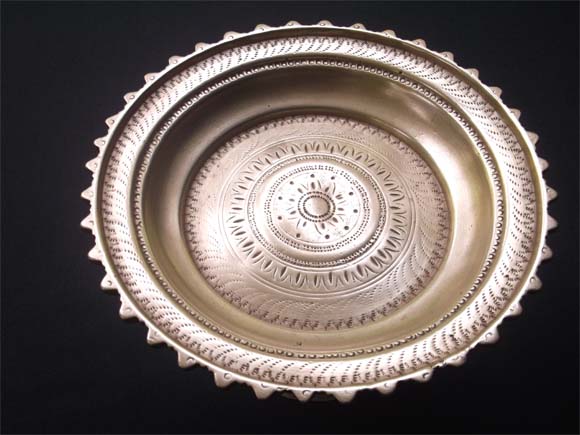 How I got this enchanting antique piece
I have acquired this superb bowl from an antique dealer in Chennai near Kapaleswara temple in Mylapore area in the year 1970. So it is with me since 43 years. I do not know since how long this piece was with the antique dealer and how long it was in use with the temple. There were thick patina marks on the bowl with pedestal and I have cleaned the major part. Still there are beautiful patina marks underneath the bowl which could not be cleaned. These patina marks are one indication of the antiquity of the bowl which is estimated around 100 years old.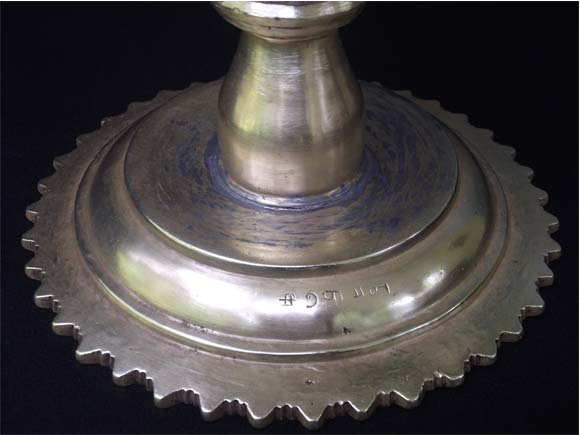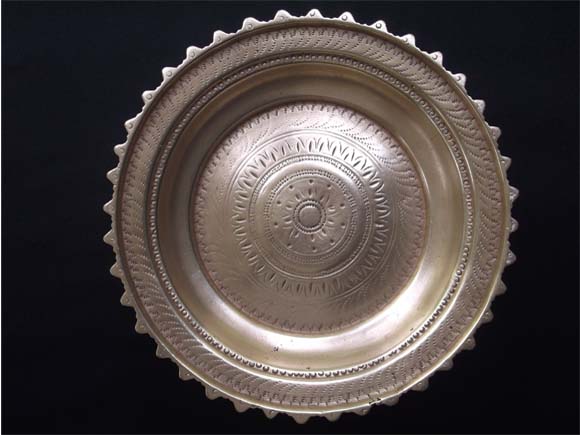 Admire the 40 conical shape projections all around the rim of the bowl