Antique Punjabi Lassi Brass Tumbler Glasses
Punjab is known for its great culture popularly depicted in Bhangra folk dance and spicy dhaba food.  Punjabi food is not complete without a thick creamy Lassi. Lassi is a special Punjabi drink made with Curd or Yogurt or Dahi churned with sugar and spices to form a smooth thick liquid and is best served chilled in a tall brass glass. It is said that the heavy Punjabi food with spices and pure ghee is digested easily by taking a glass of lassi after the meal. For most Punjabis, a few Aloo parathas and a tall glass of lassi is a normal breakfast.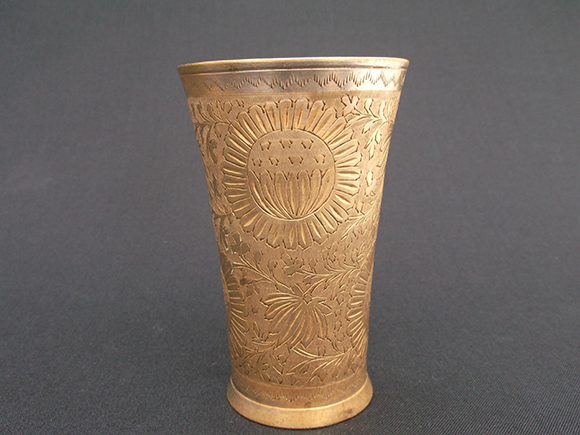 Traditionally, there are special glasses for serving lassi – the  strong and tall glasses made with brass. There are also the small lassi glasses that are used to serve lassi to the children. Traditionally, lassi is also served in earthen glasses or tumblers known as Kullhad in North India. Punjabis are strong, tall, do hard work and enjoy life fully with song and dance, good food, and hearty laughter. All these Punjabi traits are depicted in the craftsmanship of their lassi glasses. With the invasion of stainless steel and plastic in our so called modern culture, the traditional brass glasses have taken a beating and have been replaced by steel and plastic glasses.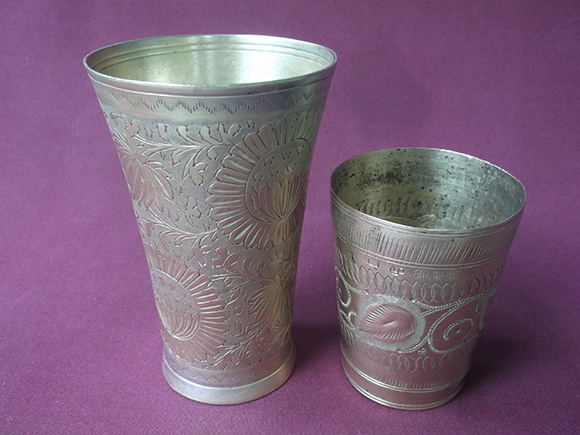 But even now, some of the traditional Punjabi families use these beautiful brass glasses for serving and drinking lassi. The taste of lassi is divine when taken in a brass tall glass. I have collected two antique lassi glasses and I am proud to introduce these wonderful artistic lassi drinking brass glasses to you.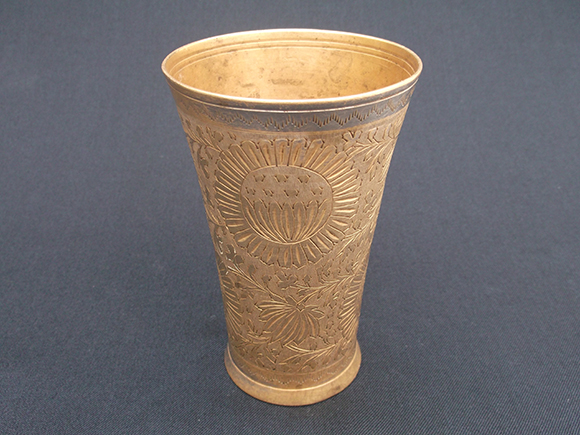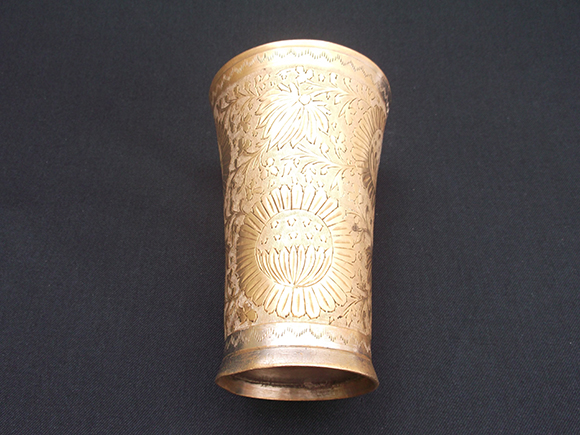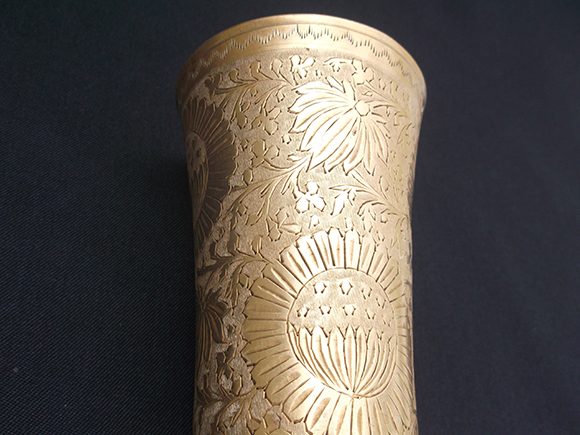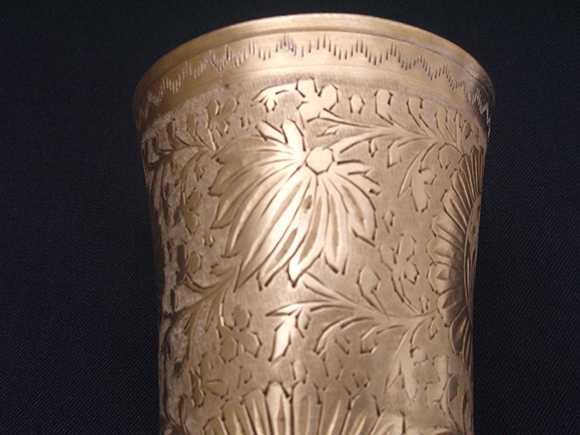 The lassi glass shown in the picture is 5 inches tall and the bottom has 2.25 inches diameter and the top mouth opening is 3.25 inches diameter. It has a beautiful telescopic shape and there are very intricate carvings on the entire body of the glass. The glass is handmade with high quality of brass.  I have purchased this glass from an antique dealer in Hyderabad who told me that he had acquired it from a Punjabi family when they were clearing some of their collection while shifting from Hyderabad. I am highly delighted to have this beautiful glass in my collection. Once in a while, just for a change we prepare lassi and drink from this antique brass  glass for the thrill of it.
I have also collected another antique lassi glass from the same source which is smaller in size. The height of the glass is 4 inches and the diameter of the bottom base is 2 inches and the top mouth opening  is 2.5 inches.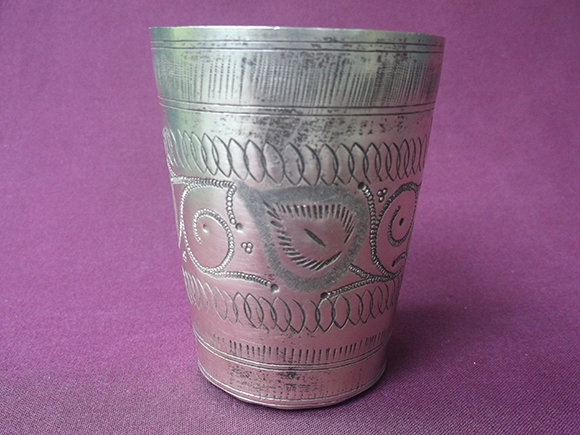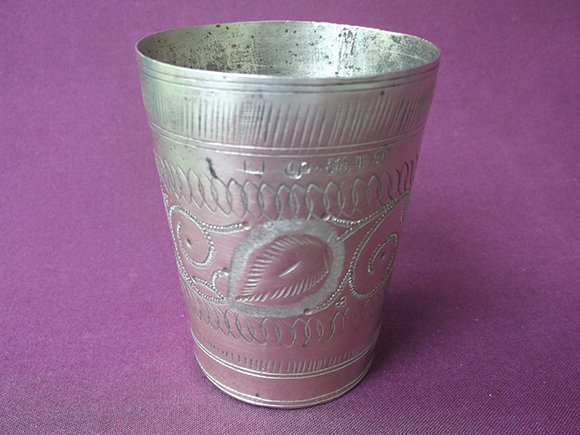 Lassi is as old as Lord  Krishna. The stories of Bala Krishna's playful mischiefs like stealing curds and butter from the houses of Gopis is beautifully narrated in Bhagavatam, the epic Purana that tells about the story of Krishna as an avatar of Lord Vishnu that dates back to approximately 5,000 years. Bhagavatam also tells us how child Krishna sits next to Yashoda, his caretaker mother, when she churns the milk and curds to take out butter from them. He used to drink the churned curds topped with butter which is now called Lassi in Punjabi. Lassi is known to have existed since 5000 years and is very popular not only in Punjab but throughout India. It is consumed  in different ways in different parts of India. In south India, they dilute lassi with water and call it Moru in Tamil and Malayalam, Majjiga or Challa in Telugu, and Majjige in Kannada.
How Lassi is prepared in a traditional way
This recipe is to make one tall glass of lassi. You need a porcelain pot or a stainless steel pot and a wooden churning stick. Keep 2 cups of yoghurt or Dahi or curds in the pot, add ¼ cup of water for dilution and 2 full tablespoons of sugar and churn the curds with the churning rod by using your hands for churning. When you get a smooth flowing liquid consistency, add one teaspoon of rose water and freshly crushed cardamoms for flavour. Churn the contents for some more time till all ingredients are smoothly blended. The Lassi is ready. Serve chilled in a long brass traditional brass Lassi glass topped with Malai (fresh cream) and garnish with Almond slivers.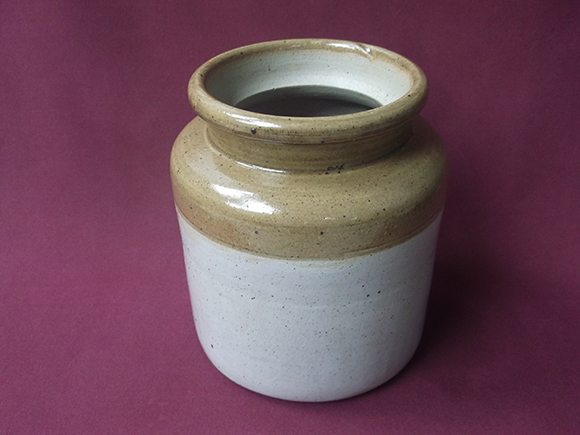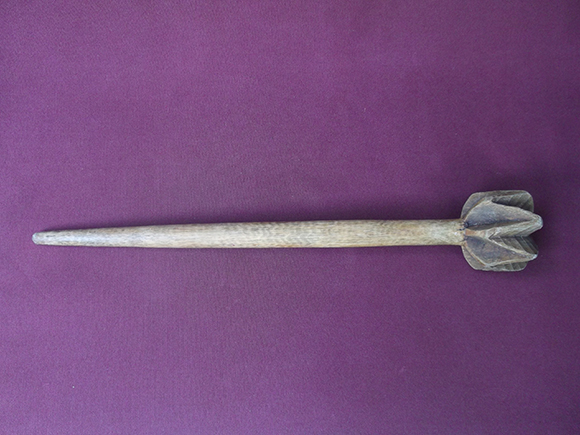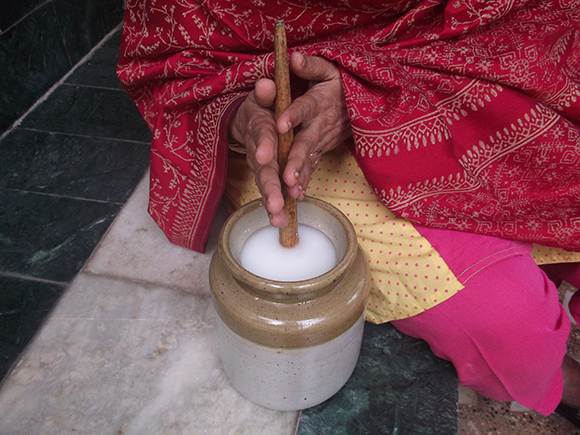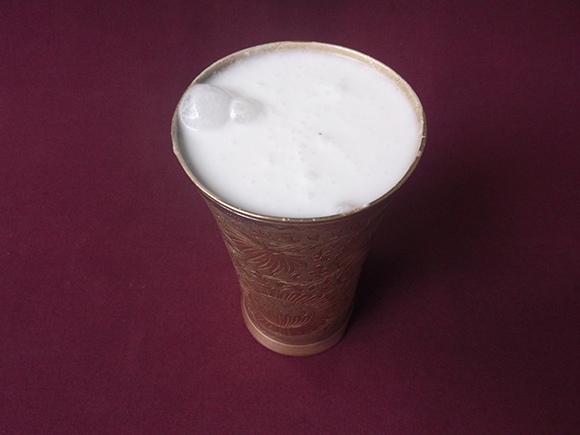 If you do not have time for traditional hand churning process, you can use an electric mixer or a blender and the process is same. Do not overuse the mixer because the liquid gets heated and tends to lose its texture. Also, the metal blades of the electric mixer alter the taste of the Lassi.
Tips to make good Lassi
– Avoid using ice cubes since they dilute the consistency of the lassi. Instead, use chilled curds or chill the lassi after preparation.
– If the yogurt is not thick and is runny, do not add any water to it. Churn or mix as it is.
– Always use fresh curds. Fresh curds have inherently sweet taste and hence very little sugar is required for sweetening.
– If you want real authentic taste of lassi , use traditional method of whisking by a wooden churning stick.
Varieties of Lassi
There are many variations of lassi depending on the region and taste of the people. Let us examine some of the varieties of lassi available in our great country.
Sweet Lassi – Sweet lassi is prepared by adding sugar and other sweetening and flavouring ingredients like rose water, lemon, strawberry etc.
Salted Lassi – Salt is added to the plain lassi to give a savoury taste. It quenches thirst and is beneficial to people with diabetic problem.
Saffron Lassi – Saffron lassi is a delicacy and a special item prepared for an occasion. Normal sweet lassi is prepared and is churned with strands of saffron flower. It gives a rich saffron  colour and a fine aroma. When preparing saffron lassi no other flavouring items should be added. Only then can you enjoy the special flavours of saffron. Saffron lassi is also good for health since saffron has lot of medicinal properties including enhancement of complexion and skin texture.
Makkhaniya Lassi – Makkhaniya lassi is a simple lassi without salt or sugar but containing lumps of Makkhan (butter ). This lassi is very creamy and gives you the original taste of fresh curds and fresh butter.
Masala Lassi – Masala lassi is a lassi enriched by spices like cardamom powder, almond paste, roasted and grounded cumin seeds, pista powder, and saffron strands. The masala Lassi is normally taken for celebrating  an occasion.
Flavoured Lassi – Flavoured lassi is a normal lassi flavoured with different flavouring agents. The flavoured items are rose water, Keora (kewra) water, Rooh Afza etc.
Mint Sweet Lassi – To prepare Mint sweet lassi, a fine paste made by finely grinding the mint leaves is added to the sweet lassi. This lassi gives the benefit of fresh mint leaves that are known to cool  the human system. Hence, this mint sweet lassi is taken in summer where one has to cope up with high temperatures.
Mango Lassi – Mango lassi is prepared by mixing Yogurt and fresh mango pulp. Since mango has a natural sweetness, no sugar is added. If fresh mango pulp is not available, canned mango pulp can be used. Mango and lassi is a beautiful combination of taste. The taste is further enhanced by adding cream or ice- cream and pistachio nuts and almond cuttings sprinkled on the top.
Bhang Lassi – Bhang is a liquid derived from the cannabis (marijuana) plant which gives a high similar to the any drug intake. In many parts of India, consumption of Bhang is legal. Rajasthan is said to have licensed shops to sell Bhang. The lassi mixed with Bhang is Bhang Lassi and it is widely used by family members during the colourful festival of Holi which is celebrated in the entire northern belt of India in a grand scale. There are "Government Authorised" shops selling Bhang within the fort walls of Jaisalmer fort, Rajasthan that provide you any level of potency you may desire to acquire.
Chaas (A variation of Lassi) – Chaas is a very diluted variation of lassi with water. The butter and fat is removed from the chaas and hence it is called butter milk. This diluted lassi is added with Jeera (cumin seeds) powder, salt, fresh coriander powder, freshly ground ginger, and green chilli paste for taste. In South India, the fresh carivepaku leaves (Curry leaves) are also added for extra flavour. Chaas is very popular in states of Gujarat and Rajasthan where it is drank along with the meal. This liquid is supposed to be a coolant and aids digestion. It is called challa or majjiga in Telugu, majjige in Kannada, taak in Marathi and moru in Tamil and Malayalam.
Lassi in Hindu Ritual pooja – It is a pooja ritual in most temples to do Abhishekam with curds mixed with honey which is lassi in which honey is added instead of sugar. This ritual is done mostly in Shivite temples to the Shiva linga.
Health benefits of Lassi – Since ages lassi is consumed all over India as a health drink. It has rich calcium content which is essential for healthy bones. It is taken as a tested traditional medicine for gastroenteritis by adding Haldi powder (turmeric powder) to the plain lassi.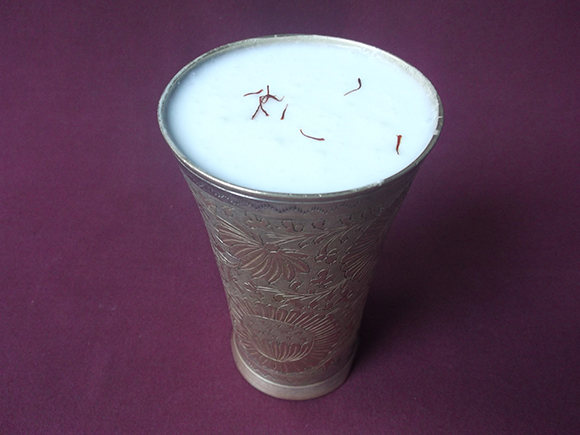 Lassi as a national drink – It was proposed by the planning commission at the national level that "tea" should be considered as a national drink. But many representations were made to the government that "Lassi" should be considered as the national drink since it is part of the tradition and ethos of Indian psyche since ages. Tea and coffee are alien to India and they were introduced to India since a few hundred years ago by foreigners. Though India cultivates the best Darjeeling tea and exports it to all over the world, it is not native to India. So the great lassi is the choice of millions for the National drink.
Subscribe to future posts!
Fill in your email address and receive an alert when new posts are added to YKantiques.com
[subscribe2]