How To Acquire Antiques from Genuine Sources – Top Three Tips
The real joy of acquiring an antique lies in identifying an antique at its original source, persuading the owner to partake it and adding it to your collection. In this process, you get to know the source of the item, the genuineness of the item, the owner of the item, the history of the item, and the purpose for which the antique has been used. When we acquire an item from a known source, we can narrate a story around the item. Any antique will acquire its intrinsic value by its history and the story around it. The more  mysterious the story is and the more intricate the history was, the value of the item will be greater. Antiques that do not have a story around them are mere objects and do not have the glamour and emotional bondage that are an essential part  of an antique.
As they say, the journey is more interesting than the destination. Similarly, the drama that takes place in hunting for the antique is more thrilling than the mere acquisition of a piece. Buying an antique from an antique shop with the help of a catalogue and price list is like buying any other item from a shop or supermarket. Buying an antique from a shop is advised only when that particular item is required and is available in that particular store only and nowhere else.  I prefer and enjoy collecting my antiques directly from the source and I share with you the top three methods I use to acquire them.
Explore and Exchange 
Wherever I  go – like a friend's place, a relative's house, or any other place , I explore that place with an eye to detect some old item which I assume that they may not be using or is underutilised. I do not make it look too obvious that I am searching for something, but at the same time keep an eye for anything that catches my attention. In my initial days of antique collection, I used to collect whatever was available to me. Slowly, I started collecting only those antiques that have a bearing on our culture and tradition. Now, I specialize in collecting and exhibiting cultural antiques and I specifically look for such type of items. When I see a real antique I get excited, my heart races, and a pleasant burning sensation engulfs me. If I can make a deal and get the item then it is all good. Otherwise that particular item haunts me in my dreams. The very thought that I liked it so much and still couldn't get it plays in my mind for a long time. It takes time to erase it from my memory. Most of the antiques are acquired by emotion rather than by reason.
I once went to my brother-in-law's brother's house to attend a function at Pittahpuram, once the capital of the kingdom of  Pittahpuram Maha Raja in the East Godavari District of Andhra Pradesh, India. My brother-in-law's name is Shri. Vakkalanka Venkateswara Rao and his brother's name is Shri. Vakkalanka Madhava Rao. Shri Madhava Rao's wife's name is Maniamma garu. His house is more than a hundred years old and many generations lived in that house. These sort of houses are the ideal places for hunting antiques. I started exploring. I went to the kitchen area where Maniamma garu (garu is added to a name in Andhra Pradesh to respect the person of that name) was busy cooking. While I was talking to her, she stretched her hand to pick up some salt from a nearby pot. When I saw the pot my heart raced and started pounding hard and I was excited. It was a China blue and white pottery vase. Immediately something from within me told that my hunt is over and I should work on how to acquire it.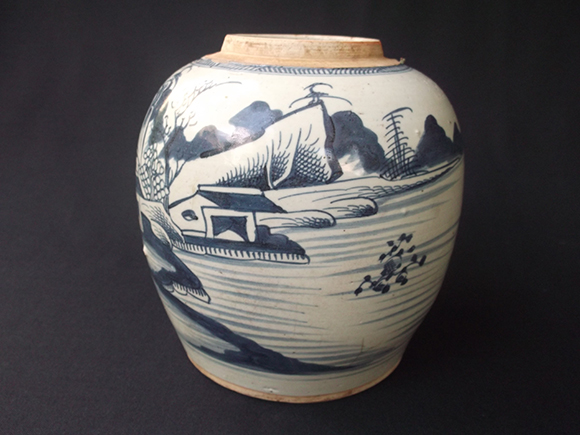 I composed myself and asked Maniamma garu casually since when have they been using that Jaadi (jaadi is a local version of porcelain vase) to store salt. She told me that ever since she knew the kitchen, this jar has always been there to store the salt and that it was passed on to her from her mother in-law. Her father-in-law had worked for the Maharaja of Pithapuram many years back. Now my guess was confirmed. The jaadi was very old indeed. I again casually asked her whether she can use a similar new jaadi for storing the salt or is she particular about using only this jaadi. She told me that a jaadi is a jaadi and anything that serves the purpose of storing salt is good enough for her. I immediately came out of the house, went to the nearest market and purchased a porcelain jaadi that is cylindrical in shape having  two colours of brown and white with a shining lid, one size bigger than the Blue pottery one. This new one was similar to the one that the locals use to store Aavakaya, a spicy mango pickle famous in Andhra Pradesh.
I bought the item to Maniamma garu and told her that I bought a new salt jaadi for her and if she doesn't mind can she give me the old one. She was first surprised and wondered why I took so much trouble in buying a new one for her when the old one was serving the purpose. Then I revealed to her that I like old items and I am collecting such old items from people like her from good families. Then she washed the new jaadi with water mixed with Haldi powder and again rinsed with fresh water and dried the jaadi with a dry cloth. Then she transferred the salt from the old jaadi to the new jaadi and handed over the old jaadi to me. When I reached Chennai, the city I was living in at that time which is the capital of the state of Tamil Nadu, India, I showed the vase to an expert and he confirmed that it is a genuine antique china pottery vase. 
Let Your Friends and Family Members Know Your Passion for Antiques
When you talk to your friends and relatives, be open and talk with passion about your interest in antiques and about your antique collection. Deep passion is something viral and it catches on. When they want to thank you for whatever you have done for them, or they want to express their love and affection to you, or when they want to gift you something for an occasion, they know that the best way to make you happy is to gift you an antique piece.
When I was in Mumbai, my wife's friend Annapoorna who is from Hyderabad visited us in the year 1992. She was excited to see her friend after a long time. She saw our antique collection and participated in our passionate talk on antiques. Suddenly, she declared that she has one old Brass gangalam which is now stored in the  attic of her house in Hyderabad and that she would love to gift it to us as a gesture of her encouragement. She further said that the gangalam will look better in our collection rather than lying unnoticed on their loft. She told us that whenever we visit Hyderabad, we should visit her house and collect the Brass  gangalam. We thanked her and the conversation drifted to something else.
After three months from this incident, we happened to go over to Hyderabad and informed her that we were in Hyderabad. She invited us for dinner and after a well spent evening with her, her husband, and children, we got up to leave her house. She asked us to wait for a minute and called her servant and instructed her to go up the attic and bring down the brass gangalam. She further told the servant to clean it up and put it in our car.  We were surprised that she remembered her word given to us at Mumbai and were happy to know that she meant it. As a courtesy, we politely told her that we will take it later. But she insisted that we stay a little longer and take with us her gift.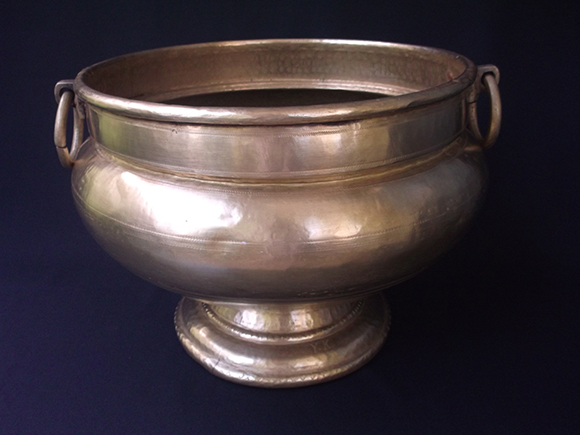 Of course, we happily stayed for some more time and collected the gift. It is a beautiful Brass gangalam that was mostly keep at the entrance of the house in good old days filled with water so that whoever enters the house will first wash their feet and then only they enter the house. This was a tradition in the good old days. When we first saw the brass gangalam it was almost black in colour due to long storage and oxidation. We wanted to know the age of the gangalam but what Annapoorna told  us is that she got it from her mother and her mother got it from her mother in turn. She said that it is there since 4 generations in their family. We brought it to our Mumbai residence and got it cleaned. It is now a proud possession in our house. We affectionately call it "Annapoorna Gangalam".
Attend Local Exhibition cum Sales Events
 I closely follow the newspapers and magazines for information on exhibitions cum sales events happening in the city. These advertisements normally fall into the following three categories:
1. Families that want to reduce or dispose part of their collection
2. Families that are shifting to a new location within city or to other cities
3. Families that are leaving the country and settling abroad
Most of the people falling in the above three categories want to sell their valuable collection. I invariably visit these sales since it gives me an opportunity to buy the antiques from a known source and when purchased I can ask them the history and related story about the antiques. I also generally get them at a very reasonable price since the people who leave the country to settle abroad have to clear their items within a set time. Most of these sales will be for one day only. Hence, I make it a point to go with adequate cash to purchase the item on the spot if a deal is struck. If you are interested in having a wide selection, you have to go early and clinch the deal. Of course the first half of the day's sales will be at a relatively higher price, and as the evening sets in the prices start getting reduced, but you will have the limited choice. I have acquired most of my collection through such "Sales".
Once I attended a sale in Madras (now renamed as  Chennai ) by a family who were leaving India to settle abroad. I saw a beautiful stone sculptured statue of a lady drummer similar to the sculptures of Konark temple. The sculpture was very captivating with a gracious posture, enchanting hair style, and well-rounded body curves. I asked the house owner as to what is the price for the sculpture. He said it is priceless. Then he added that I can give him whatever I value I feel is right for that piece since he has to close the sale that evening. I could see how much feeling of separation he had felt to part with that piece. I gave him whatever I thought at that time was a reasonable price is and came out with that lovely statue. You can have a look at that wonderful stone statue.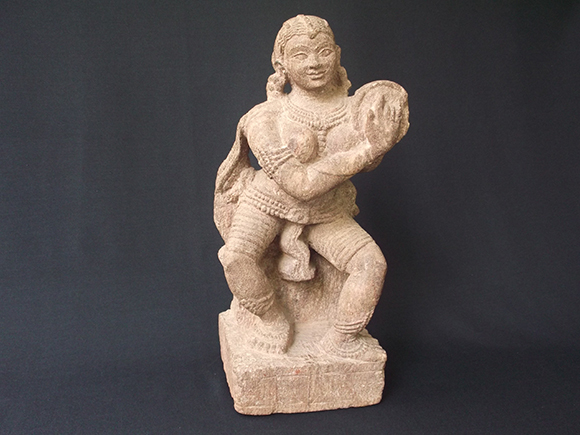 These are just a few tips and experiences that I have written down. I'm sure you will have your own experiences to share. Feel free to drop in your comments and suggestions. I will be glad to read them and reply. 
You can subscribe to my future blog posts;
Please fill in your email address and you will be informed whenever I write a new blog post.
[subscribe2]
Thank you.